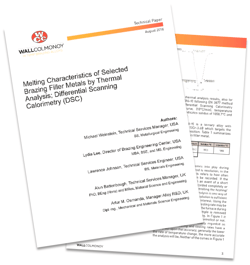 Wall Colmonoy presents the technical paper "Melting Characteristics of Selected Brazing Filler Metals by Thermal Analysis; Differential Scanning Calorimetry (DSC)".
Written by our leading Brazing Technical Team, the paper was presented at the 2018 International Brazing & Soldering Conference (IBSC 2018) and the 12th International Conference on Brazing, High Temperature Brazing and Diffusion Bonding (LÖT 2019).
The paper examines methods used for thermal analysis for brazing and assesses data reliability for several brazing filler metals including:
Nicrobraz® 10 (BNi-6)

Nicrobraz® 150 (BNi-9)

Nicrobraz® 152 (BNi-15)
As developed in the 1950s by Bob Peaslee, melting points were measured using thermal analysis during cooling. Today, our brazing engineers are again setting the standard in partnership with AWS using the more modern method of differential thermal analysis.
This change will enable brazing engineers to control and predict their brazing operations – such as selecting the right brazing furnace cycle – which will result in time and resource savings.
Wall Colmonoy is moving all Nicrobraz® nickel-brazing filler metals to this new standard.

We welcome your comments and look forward to discussing your current and future Brazing needs.
For more information, contact us.