Aachen, Germany
21-23 May 2019 – Visit Us at Stand 20
LÖT - the 12th International Conference on Brazing, High Temperature Brazing and Diffusion Bonding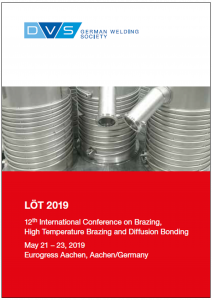 Wall Colmonoy is a world leader in the development and manufacture of nickel-based brazing products. At LÖT, Wall Colmonoy will be promoting their latest Nicrobraz® (nickel-based) brazing products for the joining of metal parts for high-temperature and corrosion applications.
Nicrobraz®, pioneered by Wall Colmonoy in the 1950s, is the original nickel-based brazing filler metal and the most widely applied range of high-temperature nickel-based brazing alloys.
Wall Colmonoy's brazing and manufacturing expertise have resulted in increased efficiencies and significant cost savings in maintaining and extending the life of parts within the automotive, aerospace, energy, and defence industries.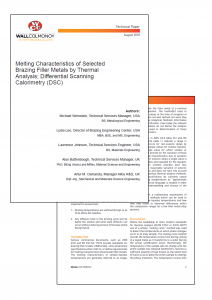 Nicrobraz® is supplied as powder, paste, tape, foil, sheet and rods in a full range of sizes and specifications. Powders can be Gas or Water atomised and produced to specific alloy formulations. Wall Colmonoy also custom formulates brazing filler metals to meet customer specific requirements. All products adhere to ISO 9001 standards.
As part of the conference, Wall Colmonoy will also be presenting a poster on the technical paper, "Melting characteristics of selected brazing filler metals by thermal analysis; Differential Scanning Calorimetry (DSC)".
The paper examines thermal analysis methods which can be used to determine solidus-liquidus temperatures and how they may relate to observed differences within the composition ranges for a few filler metal alloy systems.
Come visit us at Stand 20 to learn more!
If you are not attending the conference and would like to receive a copy of the paper, please contact us.
Read more on LÖT here.