Wall Colmonoy is pleased to announce that they will be participating at SPE Offshore Europe 2023, taking place in Aberdeen, UK 5-8 September. You can find us at Stand 2G11.
Wall Colmonoy has been a trusted supplier to the Oil & Gas Industry offering Colmonoy® (nickel-based) and Wallex® (cobalt-based) alloys for hardsurfacing applications, ColTung™ Rod for maintenance and repair, WallCarb™ for bearing systems, brazing expertise, precisely engineered cast machined components, ColWear Vacuum Fused Wear Plates, expert application consultancy, and field assistance.
Colmonoy® and Wallex® Hardfacing Alloys and Coatings
Wall Colmonoy is one of the leading manufacturers of nickel and cobalt-based hardfacing alloys.
Our specially formulated range of Colmonoy® (nickel) and Wallex® (cobalt) hardfacing alloys prolong the lifespan of Oil & Gas equipment and machinery within exploration, drilling, pumping and refining in the industry by protecting against corrosive damage and wear.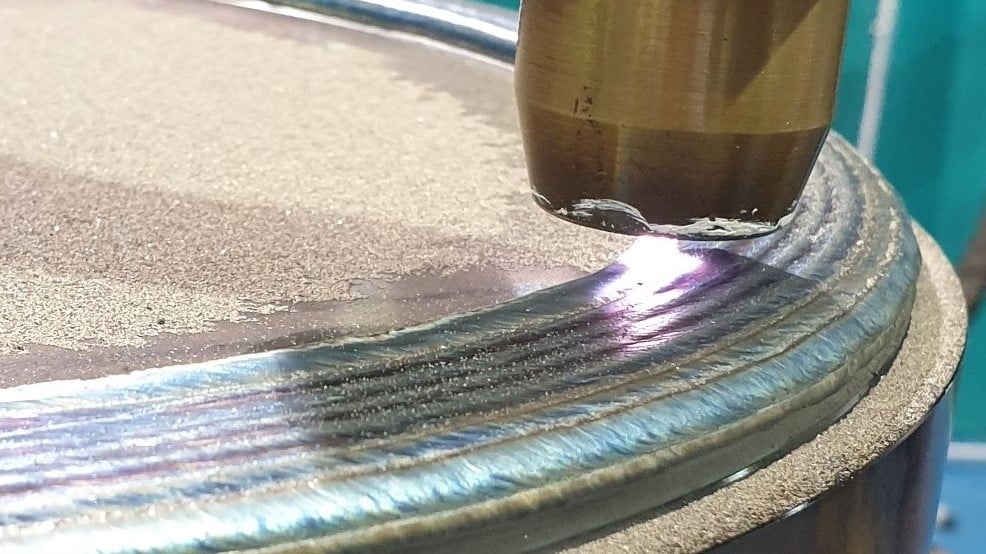 Wallex® 6 applied via Plasma Transferred Arc (PTA) to a Valve Seat.
Colmonoy® and Wallex® have special metallurgical and physical properties, making them ideal for addressing wear-related challenges in the Oil & Gas Industry and are supplied for a variety of proven thermal spraying and welding techniques, including Spray & Fuse, Laser Cladding, Plasma Transferred Arc (PTA), HVOF and plasma spray.

Some typical corrosion resistant alloys found in Oil & Gas include Colmonoy® 88, 625, 276 and 686. The alloys have a high resistance against pitting corrosion and resistance to sour gas – especially important in valve applications where environments might also contain sand particles which might then cause secondary erosion or abrasion.
Colmonoy® 88 PREN = 41

Colmonoy® 625 PREN = 52

Colmonoy® 276 PREN = 76

Colmonoy® 686 PREN = 81
In addition to providing nickel and cobalt powders, Wall Colmonoy Limited (UK) also provides high performance wear-resistant coatings for both repairs and new parts. Wall Colmonoy Limited (UK) can apply hardfacing materials, such as our proprietary Colmonoy® and Wallex® alloys, carbides and blended coatings including tungsten carbide for superior wear or abrasion resistance. Application methods are by Spraywelder™ System (Flamespray), Fusewelder™ Torch (Powder Welding), HVOF, PTA, and Laser Cladding.
Examples of Coated Components for the Oil & Gas Industry include:
Magnetic & Non-Magnetic Stabilisers and Sleeves, Pumps, Reciprocating Pump Plungers, Wear Rings, Gate Valves, Ball Valves and Seats, regulator/ Choke Valves, Plugs, Stab Pins and many others.
ColWear Vacuum Fused Wear Plates
Wall Colmonoy's range of ColWear vacuum fused wear plates offer a unique solution to aggressive wear problems within high-temperature corrosive, abrasive, erosive environments found in the Oil & Gas industry.
ColWear wear plates protected with Colmonoy® (nickel), Wallex® (cobalt) or iron-based hardfacing alloys – last significantly longer than unprotected parts and other coated plates in aggressive service environments – reducing costs, maintenance and downtime.
ColWear Plates are smooth, crack free, lightweight, have minimal dilution, and provide hardness down to the fusion line. ColWear Plates' lightweight, thin construction from a weldable mild steel or stainless-steel backing plate enables ease of handling, forming and fabrication. More on ColWear here.
WallCarb™ for Bearing Systems
WallCarb™ Bearing Components provides exceptional performance in the harshest working environments. WallCarb™ coatings can be applied to internal, external and flat wear surfaces in mud motor and downhole drilling applications within the Oil & Gas industry.
WallCarb™ is a proven solution to extend the lifetime of key components in critical Oil & Gas operations. Typical Applications include Stabilisers, Adjusting Rings, OD & ID Bearing Components, Bearing Housings, Drive Shafts, Mandrels, Wear Pads, Mud Motor Bearings.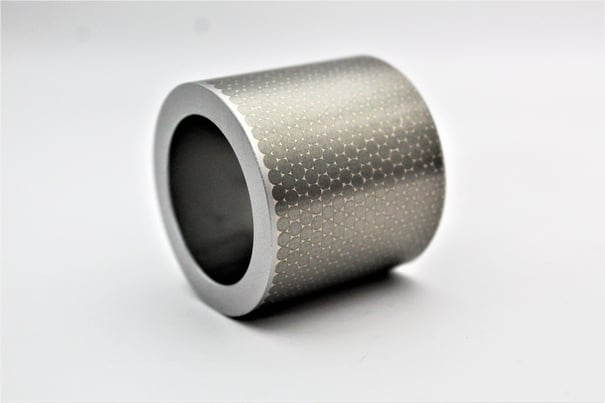 Close-up of WallCarb™ Bearing Showing Spherical Carbide Particles.
Brazing Expertise
To reduce field failure, extend product lifetime and reduce operational waste, our technical brazing experts help customers in the Oil & Gas industry implement innovative metal joining solutions. Example of Brazed Component for the Oil & Gas Industry: Multipath Severe Service Trims, Brazed Tiles for Stabilisers, Heat Exchangers and more. More on vacuum brazing and vacuum heat treatment services.


Precision Engineered Cast Machined Components
Wall Colmonoy offers full component manufacture from one source at its site in Wales. Wall Colmonoy Limited (UK) has a modern foundry that produces castings for many Oil & Gas customers. Wall Colmonoy's extensive experience in high precision air and vacuum cast components cast from superalloys and other industry standard materials make us an ideal partner for this industry.
Our precisely cast and machined Oil & Gas components are made from wear-resistant, heat-resistant, and corrosion-resistant materials such as Colmonoy® and Wallex®, as well as customer-specific alloys with varying hardness levels. Our components provide excellent resistance against all common failure modes in the industry, including impact, corrosion, abrasion, fretting, galling, and friction. Precision Cast components are manufactured using Investment, Centrifugal, Sand, and Vacuum Investment Processes, or Hot Isostatic Pressing (HIP). Components can be offered in the as cast, proof machined or finish machined condition. More on our Machining Capabilities.
Precisely cast machined components for the Oil & Gas industry include:
Antenna, Pads, Kicker, Clamp Plates, Bushes, Cages, Impellers, Gears, Idlers, Rotors, Stators, Sleeves, Balls, Plugs, Face Seal Support

,

Valve Seats, Rings, Stem Guides, Inducers, Flow Straightener, Flow Cages, Ball Valves, Gate Valves, Strainer, Seal Driver, Pulser Stator, Turbines, Seat

Retainer,

Bearings, Artificial Lift Pumps, Shaft Seal Retainer, Cable Protectors and Stems.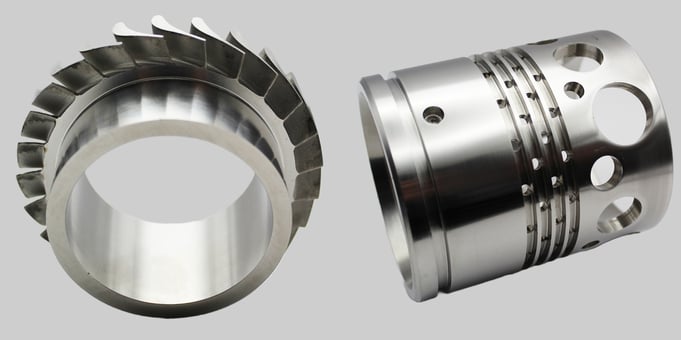 Wallex® 6 Turbine Rotor (Cast & Machined) and Wallex® 6 Flow Cage (Cast & Machined).
To schedule an appointment with us at SPE Offshore 2023 or to discuss your specific Oil & Gas requirements, please don't hesitate to contact us.