In this example, a ColWear 62-1 impact liner is installed in a transfer chute in a Waste to Energy plant's most severe environment.
The Waste to Energy plant utilises rubber tyre waste to generate power for its operations. The rubber tyre waste has highly abrasive wire embedded into the rubber chippings. The chippings impacted the wear liners that were installed.
A 6mm+6mm Chrome Carbide coated weld overlay plate was currently in place but would only last about 6 months in operation prior to total failure of the impact plate. The chrome carbide wear plate required scheduled yearly replacement due to the abrasiveness of the material. The customer wanted to extend this period to reduce maintenance shutdown and to increase their output.
The customer requested a high performance wear plate to extend the lifetime one of their challenging applications that was failing prematurely. ColWear 62-1 plate was installed due to its superior hardness and impact resistance to extend the lifetime of this critical area of plant. The ColWear impact liner has been in service for 4 years without any sign of failure, extending the service life by 8 times. ColWear Plate has a higher hardness and carbide retention during manufacture and can be produced without dilution or cracks despite the high coating hardness.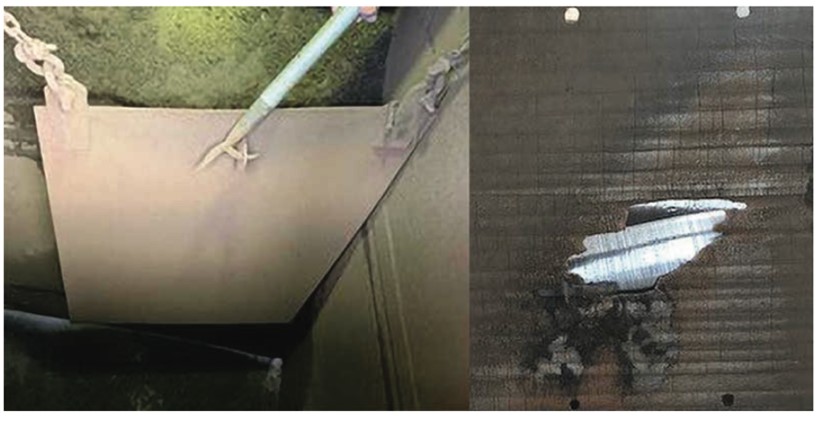 ColWear 62-1 exhibits no failure for over 4 years, whilst the chrome carbide plate shows failure after 6 months.
ColWear 62-1 liners have been installed in other Waste to Energy applications including undergrate hoppers, vibratory tables, industrial fan impeller liners and impact & chute liners - exhibiting lifetime service improvements versus conventional wear plates.
ColWear plates offer resource, cost, and usability benefits due to their thin, lightweight design, including reduced energy usage, easier handling, transport, and storage.
ColWear Plates offer a proven solution for the extension of critical plant areas in Waste to Energy to improve operational efficiency.
Our ColWear Team, located in Pontardawe, Wales, brings together decades of experience in finding solutions to challenging wear issues.
Talk to us about your most challenging waste to energy application:
Wall Colmonoy Limited
Alloy Industrial Estate
Pontardawe, Swansea
Wales (U.K.) SA8 4HL
E: colwear@wallcolmonoy.co.uk
M: +44 (0) 7813 007 606
W: colwear.co.uk