Wall Colmonoy's Aerobraze Oklahoma City remains committed to supporting essential industries during these unprecedented times.
We thank the hardworking employees of Oklahoma City! The facility follows CDC guidelines for the safety of our employees. These are just a few of the faces working hard on the frontlines.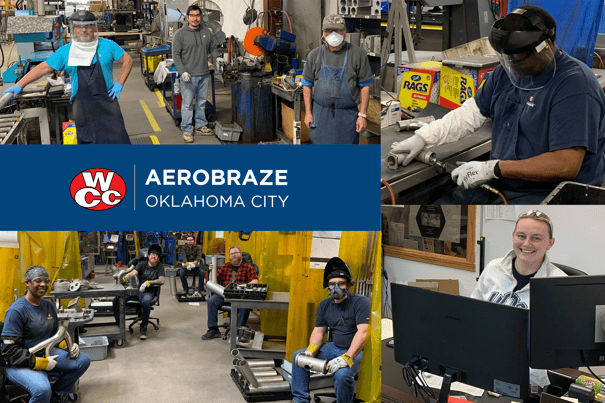 Oklahoma City creates more than 135 unique products for the aerospace and defense industries including heat exchangers, aircraft components and Nicrocraft™ aircraft exhaust systems. These components require a mix of brazing, welding, assembly, machining, and fabricating. The 38,000-square foot facility employs 90 team members and continues to grow. Products are shipped to customers around the globe.
38,000-sq. ft. facility with continued expansion

90 employees

More than 135 unique products each month

Manufacture and Overhaul of Aircraft Heat Exchangers and Oil Coolers, for Commercial and Military Aircraft – Stainless Steel and Aluminum

Aircraft Exhaust Systems for General Aviation and Rotorcraft

Nicrocraft™ Aircraft Exhaust Systems (Aftermarket FAA-PMA)

Reverse Engineering of Aircraft Exhausts

Reverse Engineering of Aircraft Heat Exchangers

Processes: Assembly, Machining, Welding, Brazing, Fabricating
Find out more about Aerobraze Oklahoma City: