Our first case study shows how Wall Colmonoy's additive manufacturing via modern binder jetting technology opens up new possibilities for customers at our European Headquarters in Pontardawe, Wales.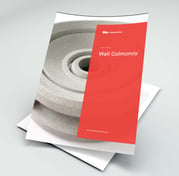 Technical Director Dr Chris Weirman states, "It's useful to have the capability to step-in and assist with an additive route. As the first owners of a Desktop Metal Shop System™ in Europe, we have unique experience of how to develop viable components for this method. This latest purchase marks a new chapter for Wall Colmonoy, and we are inspired by the possibilities of metal 3D printing to really expand what we can make."
Now with the ability to print better than near net shape metal parts, Wall Colmonoy can quickly accommodate requests for new designs, eliminating the need for a large inventory of tooling, jigs and fixtures. Previously, customers purchasing cast components could incur unjustifiable tooling costs for even small changes to existing designs.
The case study also showcases the new design freedoms available with additive parts. With the ability to consolidate a complex assembly into one additive part, and the ability to incorporate features such as curves, undercuts and unsupported arms, designers can move beyond the constraints of traditional manufacturing.
Download our first case study to find out more about what we have been up to in our 3D printing innovation space.
Let's work together!
Ready to discuss binder jetting for your application?
CONTACT
Wall Colmonoy Limited
Alloy Industrial Estate
Pontardawe, Swansea,
Wales (U.K.) SA8 4HL
E: additivemanufacturing@wallcolmonoy.co.uk
T: + 44 (0) 1792 862287