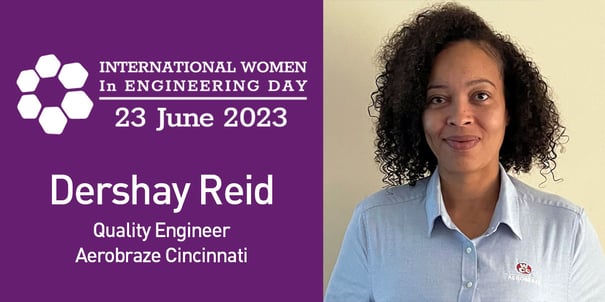 Celebrate International Women in Engineering Day with us as we spotlight Dershay Reid, Quality Engineer at Aerobraze Cincinnati.
Dershay's journey began as a Military Police officer in the United States Army, where she served with dedication for over six years. After her honorable service, she ventured into manufacturing, working in assembly and inspecting parts for quality control within the automotive, medical, and aerospace industries. It was during this time that her passion for engineering and quality took root.
Dershay reflects, "Quality reminded me of the military: precision, processes, and results."
Dershay particularly relishes the challenges posed by aerospace quality requirements, such as the demanding AS9100 and the NADCAP audits. She thrives in overcoming these rigorous standards, stating, "I genuinely enjoy the challenge they present."
At Aerobraze Cincinnati, Dershay manages implementing a comprehensive quality management system, which involves renewing certifications, supporting inspection methods, and maintaining a robust facility safety program. She finds great satisfaction in being a part of Aerobraze Cincinnati, applauding the company's commitment to detail, thoroughness and focus on safety.
"As a woman in this field, we are continually breaking barriers," Dershay acknowledges. "I hope that this recognition will serve as inspiration for the next generation of women in engineering."
To further her education, she plans on pursuing a master's degree with a minor in Engineering and Technology at North Central University.
Join us in commemorating International Women in Engineering Day and celebrating the achievements of Dershay Reid. Her journey serves as a testament to the possibilities that lie ahead for aspiring women engineers.
Learn more about Aerobraze Cincinnati here.
Interested in a career at Aerobraze Cincinnati or Wall Colmonoy? Visit our career page to learn more.