Introducing ColWear Vacuum Fused Wear Plates
Drawing on its specialist knowledge of wear-resistant alloys, Wall Colmonoy has launched a new range of wear plates which will be marketed under the brand, ColWear.
Leveraging its metallurgical expertise to develop new and innovative products, Wall Colmonoy presents a superior wear plate with lifetime beyond traditional competitors in the marketplace. ColWear plates are produced using proprietary Colmonoy® nickel and Wallex® cobalt alloys, with optional tungsten carbide. Vacuum-furnace production techniques developed over decades have been used to improve the metallurgical properties of the alloy matrix.
ColWear has had success within the petrochemical industry, where harsh conditions of abrasion, corrosion, heat and erosion are common. "We know that stopping production to perform maintenance in the petrochemical industry is difficult, dangerous, costly and inconvenient," states Dr. Lewis Berry, Business Development Manager. "We have a solution that can greatly extend service life in extreme conditions, which is a game changer for these customers". ColWear plates perform in industries where demands for wear resistance are high, such as chemical processing, power (waste to energy, biomass), steel, cement, and mining. ColWear plates extend service life - reducing costs, maintenance and downtime.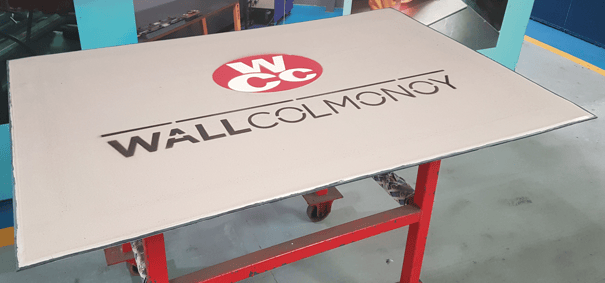 Wall Colmonoy's new line of ColWear plates achieve superior resistance to wear in industries such as chemical processing, power, steel, mining and cement.
One of the big breakthroughs in developing ColWear plates was achieving superior resistance to abrasion, whilst at the same time offering excellent heat and corrosion resistant properties. ColWear plates are in strong demand for processes such as separation, grinding, conveying, where abrasive material is a key wear issue.

ColWear plates are also significantly lighter and more uniform than traditional chromium carbide or tungsten carbide plate, and early feedback suggest customers are keen to take advantage of these benefits. These properties make it ideal for applications such as industrial fans, where lighter materials improve the energy efficiency and balance.
To learn more, visit colwear.co.uk
Or download our brochure