Wall Colmonoy celebrates its golden anniversary of 50 years of making metals work harder in Pontardawe, Wales. Wall Colmonoy, a family-owned and operated organization with facilities throughout the USA and UK, is a global leader in materials engineering, maintaining a proud reputation for expertise, trust, partnership and quality throughout aerospace, automotive, glass, oil & gas, mining, energy and other industrial sectors. The UK company exports over 80% of its products into the Eurozone, Scandinavia, South Africa, Russia, Middle East and India.
Wall Colmonoy began its European footprint in 1952, first as a sales office and distribution center in London, importing products from Wall Colmonoy Canada. As the company grew and a need for local manufacturing became apparent, alloy manufacturing began in Motherwell, Scotland before transferring to a larger facility in Brackley, England.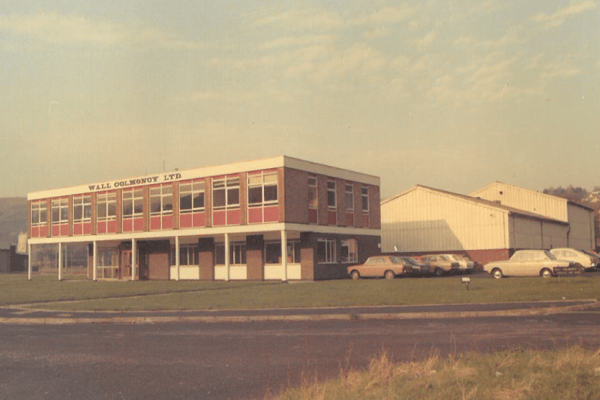 Wall Colmonoy Limited (UK) in Pontardawe, Wales. Canal Side building in the 1970s. Site of current building.
Due to continued and rapid growth in the UK and European markets, William P. Clark Sr., Group Chairman, accepted an offer by the Welsh Government, in 1969, to establish its European Headquarters in Pontardawe, Wales and build a larger facility to fulfill growing demand.
Mr. Clark was attracted to the region's 200-year metallurgical history, the available skilled workforce, highly qualified graduates from the local universities, and the close proximity to a major metal supplier, Inco (now known as Vale), in Clydach.
Over the half-century, Wall Colmonoy has increased capacity of the Pontardawe facility from 33,000 to 70,000ft2, opening a 23,500ft2 advanced machine shop to support its casting manufacturing facility in 2012. Today, its workforce continues to grow, with 215 employees; a quarter of whom have been with the company for more than a decade.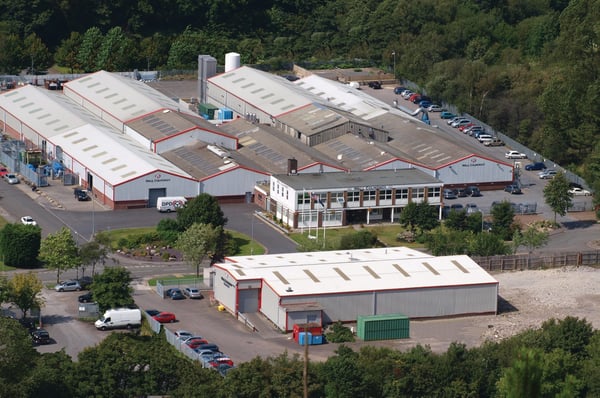 Aerial view of Wall Colmonoy Limited (UK) after expansion in the 2000s due to increased demands for powder manufacturing.
In 2015, Wall Colmonoy launched a tailor-made apprenticeship program to train and develop a new generation of engineers. There has also been a concentration on developing employees through an active learning culture, while sponsoring employees in their pursuits of further education; ensuring the business develops employees' skillsets to meet its future needs.
Bill Clark, Chairman & CEO, explains: "Wall Colmonoy is proud to be in Wales. We have been there for 50 years and plan to be there for many, many more years. We are growing and look to the local community and universities to build our expanding business."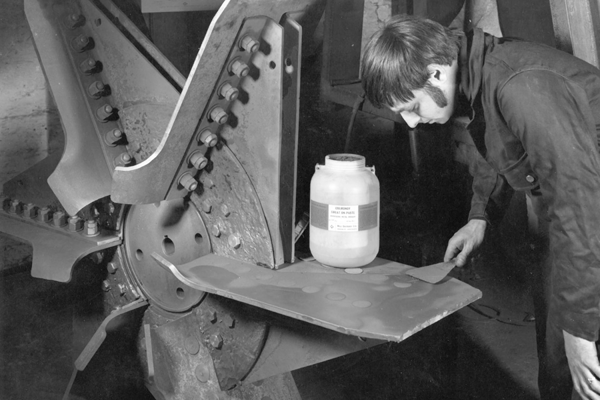 Colmonoy® Sweat On Paste applied to Industrial Fan Blades in the 1960s.
Not only does the company invest heavily in its people, but investment has extended to its manufacturing and engineering facilities. Recently, the company invested nearly £500,000 in its Research & Development Laboratory. State of the art analytical equipment has been introduced making it one of the best-equipped laboratories in the UK, aimed at product development, technical support and advancement.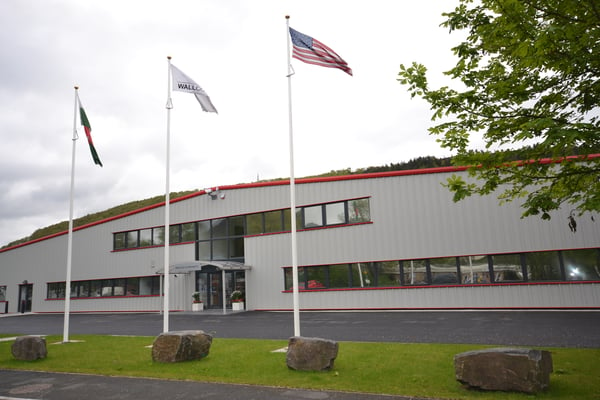 A 23,500ft2 advanced machine shop was opened in 2012 to support its casting manufacturing facility.
In addition to the high-tech lab, Wall Colmonoy implemented new technologies in powder processing, automated brazing paste mixing which its expert engineers designed and developed; and 3D printing. This has aided and propelled the development of Colmonoy®, Wallex® and Nicrobraz® products; the launch of ColWear, our vacuum-fused wear plates, and entrances into the dental industry and the developing industry of Additive Manufacturing.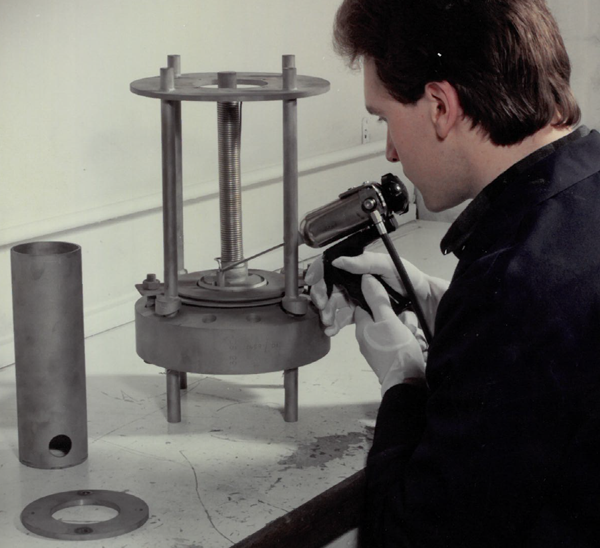 Nicrobraz® paste being applied to a Hydrogen Detector Body (nuclear component) in the late 1970s for British Nuclear Fuels.
Within Precision Components, Wall Colmonoy is working jointly with local academia to embrace Industry 4.0, by modernizing casting equipment and automation techniques through collaborative robots. For rapid prototyping of parts, the team deploys 3D printed investment patterns and tooling. In addition, the company procured 5-axis CNC milling machine, new Mazak twin spindle CNC lathes, and expanded a precision turning cell to grow capacity and offerings.
Managing Director, Rob Davies discusses the developments: "It's an exciting time, where the landscape of manufacturing is changing, and our team is adapting daily. We have the drive, the knowledge and the backing to thrive into our next half-century."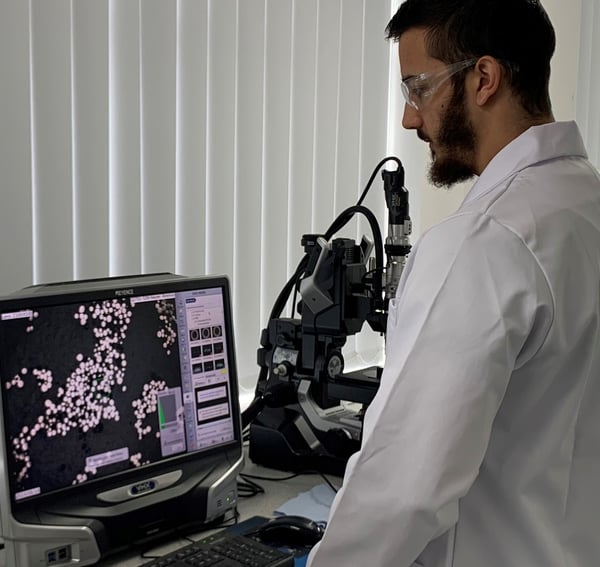 New Advanced Lab and NPD R&D Center. Determination of Hollow Particle Count in Colmonoy® 33-P2 using Digital Optical Microscope.
In its 50th year, Wall Colmonoy's continued core strategy is to be innovative with a focus and passion for solving customers' challenges. With ever-growing technical expertise, from engineers on the ground, in management, and in the company directorate, Wall Colmonoy continues to provide value-added solutions and high-tech quality products.
Wall Colmonoy plans to celebrate this milestone later this year.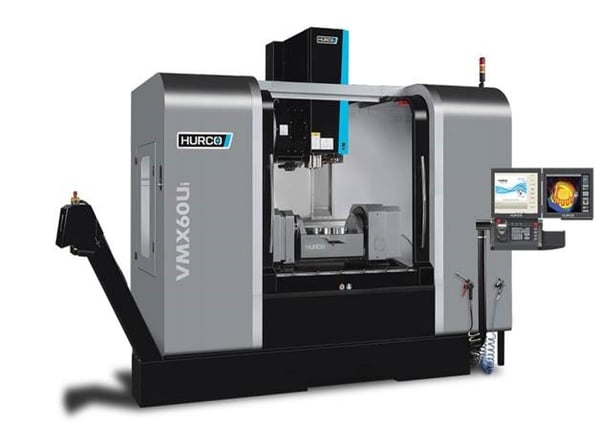 A new 5-axis CNC Milling Machine allows for the machining of complex parts, providing optimal flexibility and a total integrated offering from casting to final machined part.