Wall Colmonoy announces Chris Weirman as Technical Director for its' European Headquarters.
Chris Weirman joined Wall Colmonoy Limited in July 2019, bringing with him over 25 years' experience in Chemistry, Materials Science and Manufacturing. He has a strong background in product and technology research & development.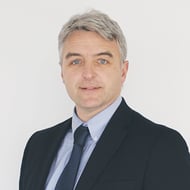 Chris will head the technical function at Wall Colmonoy Limited (UK) as the company looks to new technologies to drive its growth objectives. He will lead a high-performance technical team who support customers with material selection, innovative alloy development and practical experience of key manufacturing processes. Chris states, "I am really excited about my role at Wall Colmonoy, its future growth plans and the technology developments we can bring to the marketplace and to our customers."
Before joining Wall Colmonoy, Chris helped lead the SPECIFIC project for Swansea University where he developed next-generation coatings for the construction industry to assist in changing the energy requirements for future building projects. Prior to that, Chris held several senior positions at Tata Steel Europe and Calsonic Llanelli Radiators. Chris holds a BSc (Hons) Chemistry with Analytical Science and a Doctorate of Engineering, Materials Science. He has also achieved ProfGrad MIMMM and IOSH/NEBOSH.