Thank you to active service members and veterans for their courage and sacrifice by both themselves and their family members.
As a Service-Disabled Veteran-Owned Small Business, we pride ourselves on employing military members at our locations.
It has been a privilege to serve those who have served us. We continue to honor these brave men and women as a company and as citizens.
Join us in saluting our veterans and active soldiers at Wall Colmonoy and Franklin Bronze!
A full list of our military employees can be found below.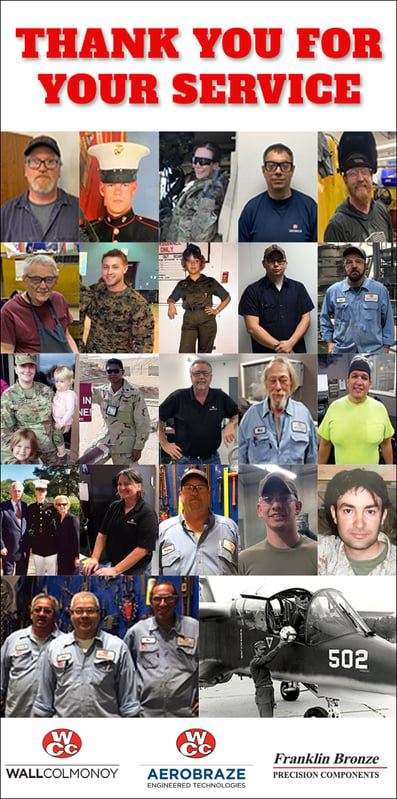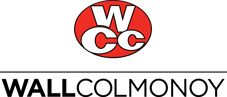 Madison Heights, MI
Bill Clark, Chairman & CEO
Captain, U.S. Marines

Nick Clark, President
Captain, U.S. Marines
Los Lunas, NM
Mike Baca, Facilities Maintenance Supervisor
E-5 Sergeant, U.S. Army

Bob Bollinger, Shipping (Domestic Coord.)
Staff Sergeant, U.S. Marines

Thomas Broekstra, Maintenance Utility
E-2, U.S. Navy

Dennis DeHerrera, Maintenance Tech III
E-4 Specialist, U.S. Army

Thomas Kaneshiro, Powder Processor*
U.S. Army

Jim Lane, EH5 Manager
Specialist E-4, U.S. Army

Don Porter, Sr. Buyer
Staff Sergeant SSGP, U.S. Army

Rick Staples, Foundry
Tech Sergeant, U.S. Air Force

Lee Thompson, Powder Processor
E-4, U.S. Navy

Robert Torres, Furnace Operator II
Aviation Ordnanceman Petty Officer Third Class, U.S. Navy

Carol Wallace, IT Tech / Developer
E-2, U.S. Navy

Robert Wasilewski, Tech I
E-3 Private First Class , U.S. Army
Cincinnati, OH
Noel Davis, General Manager
Commander, U.S. Navy

Luke McConnell, Production Utility
E-4 Corporal, U.S. Marines

Mickey Woodrum, Production Utility
Sergeant, U.S. Army National Guard
Oklahoma City, OK
Mo Alazzawi, Tig Welder
Translator for U.S. Army

Bryan Brasel, Department Supervisor
Sergeant, U.S. Army

Stephen Diver, Shop Tech II
Sergeant, U.S. Army

Gene Kirkpatrick, Shop Tech III
Sergeant. U.S. Army

Ryan Matheson, Welder II
E-5, U.S. Army

Karen Ramsey, Shop Tech I
Specialist, U.S. Army National Guard

Matt Weaver, Heat Exchanger Cell Leader
Corporal, U.S. Marines

Franklin, PA
Peggy Keesler, Procurement Specialist




E-4 Senior Airman, U.S. Air Force

Travis Taylor, Wax Press Operator




E-4 Specialist, U.S. Army
*Denotes active duty