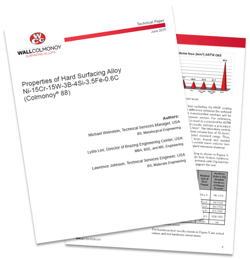 Wall Colmonoy presents the technical paper "Properties of Colmonoy® 88".
It was presented at the 2019 International Thermal Spray Conference in Yokohama, Japan.
Written by our leading Hard Surfacing Technical Team, the paper compares the properties of Colmonoy® 88 applied by different methods using various test procedures and the relative cost to benefits associated.
Colmonoy® 88 extends the life of OEM or repair / rebuild worn parts subjected to various wear mechanisms in service. This hard surfacing alloy can be applied by various methods including:
Sprayweld™ (Thermal Spray)

PTA welding

Laser Cladding

GTAW (TIG)

GMAW (MIG)

HVOF

We welcome your comments and look forward to discussing your current and future Hard Surfacing needs.
For more information, contact us.