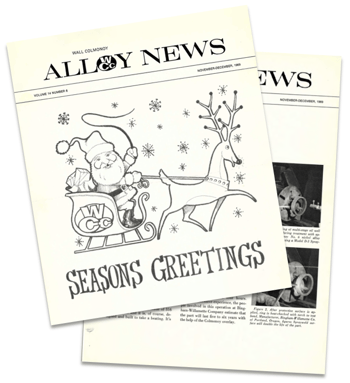 We consulted our archives and found this great vintage Season's Greetings message from our 1969 issue of Alloy News! We wanted to share this with you and wish you a wonderful holiday season!
In celebration of 50 years of Alloy News, we included the full year of publication. Features include:
Colmonoy® Updates:
Wear rings for Pump Plungers coated with Colmonoy® 6 – make the part last up to 5-6 years

Introduction of Colmonoy® 24 for repair of cast iron or steel parts applied by FusewelderTM Torch

Colmonoy® 6 increases production time by 8-10 times when coated on extrusion augers

Colmonoy® 6 is applied to reclaimed hooks on an elevator bucket for beets – lasting for two full sugar seasons!
Nicrobraz® Updates:
Launch of Nicrobraz® Transfer Tapes for applications like Heat Exchangers for easy application with automatically controlled uniformity

Announcement of the FIRST ! International Brazing Conference in Cleveland

Thermal Fatigue Console tests the heat resistance of metal or alloy, coated or uncoated to determine effective life – developed by Wall Colmonoy research team

Nicrobraz® Green Stop-Off Stix (before they became pens) on microwave tubes

Repair of giant cracked butane valves by Nicrobraz® 125

Nicrobraz® 50 is used for joining sensor bulb components in self-cleaning home ovens

Call for Brazing papers for 51st Annual Meeting of AWS in 1970
And more!
Find more updated Alloy Technical Newsletters by visiting our new Technical Center, where we feature Colmonoy® News and Nicrobraz® News: https://metals.wallcolmonoy.com/technical-center
We hope you have a wonderful holiday season! And we look forward to working with you next year!
Stay tuned for more technical content.