Note: This post was originally featured on Nicrocraft.com
Wall Colmonoy is pleased to announce FAA-PMA certification on Nicrocraft™ Cirrus® SR20 muffler and heat exchanger. Part number for the muffler is WCC20560-001, eligible for installation on Cirrus® SR20 S/N 1423 and on. Part number for the heat exchanger is WCC20559-004, eligible for installation on Cirrus® SR20 S/N 1886 and on.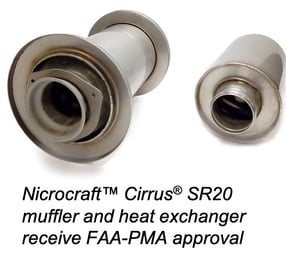 Both the muffler and heat exchanger are constructed of heat resistant 321 stainless steel. The baffles are made of Inconel alloy to provide maximum reliability, corrosion resistance, and service life.
Whether it's for business, flight training, or pleasure, the Cirrus® SR20 is an ideal aircraft, and our high-quality exhaust components will keep you flying longer.
"The addition of the new Cirrus® SR20 PMA muffler and heat exchanger in Nicrocraft's product line is important to the flight schools and Cirrus® service centers looking for better quality exhaust options," states Jim Lockbaum, Business Development Manager for Nicrocraft™.
Wall Colmonoy Corporation in Oklahoma City manufactures its exhaust products under the trademarked name, Nicrocraft™, and distributes around the globe. Nicrocraft™ brand exhaust components are high quality, new manufacture, FAA-PMA approved, and carry a full 12-month, unlimited hour warranty from the date of installation, not the date of order. FAA Form 8130-3, Airworthiness Approval Tag / Authorized Release Certificate available upon request.