Wall Colmonoy's Alloy Products Los Lunas is undergoing a $2.5 million modernization plan to increase capacity due to an increase in demand.
This modernization plan includes replacements of chillers and furnaces, installing new vacuum systems, introducing new & advanced analytical equipment in the R&D laboratory, new paste manufacturing technologies and more.
In mid-April, the two new chillers were replaced. The team hired local companies to complete the replacement. Working with local suppliers is always our preference - but now – we think it's more important than ever. Yearout Mechanical, Inc., a local family-owned company in Albuquerque commissioned the new units from SPX and completed the install. DRB Electric, another local family owned company, provided the electrical work.
The new chillers provide vital cooling for our melting processes – especially important when melting at 1650°C (3000°F) in the New Mexican desert.
"Our melting systems must be kept cool during the heating process of our molten metals. An improperly cooled furnace can lead to damage and unsafe conditions around the molten metal baths," noted Engineering Manager, Troy Parrott who led the replacement project.
"We chose Yearout as I used them in the past, and they always provided a great service. We selected SPX ReColds because we had used successfully for many years. Getting a new version of exactly what we had reduced the changes necessary during install (electrical wiring locations, inlet/outlet of the water systems), which made the change even faster."
Customers around the world receive Los Lunas' superior performing high-tech quality products including our own sister business units.
Alloy Products Los Lunas employs nearly 100 team members in the 50,000-square ft. facility and manufactures Colmonoy® and Nicrobraz® products. Colmonoy® and Nicrobraz® extend the useful life and join parts for engineered components within the automotive, aerospace, glass container, oil & gas, rubber & plastic, food & agriculture, steel, nuclear and waste to energy industries. Spraywelder™ System, Fusewelder™ Torch, and NicroSpray® System are also manufactured there.
For more on our Awesome Alloys group: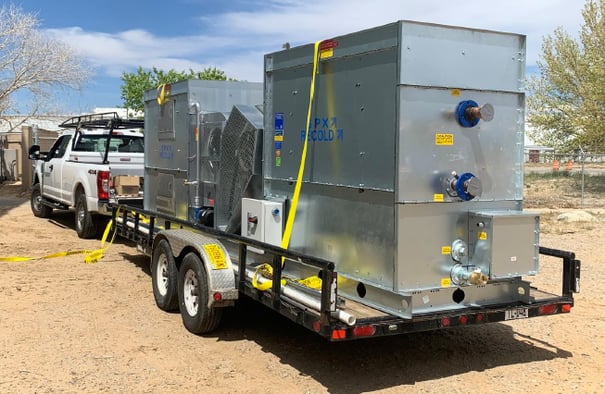 Two new Recold Chillers being delivered to Alloy Products, Los Lunas, New Mexico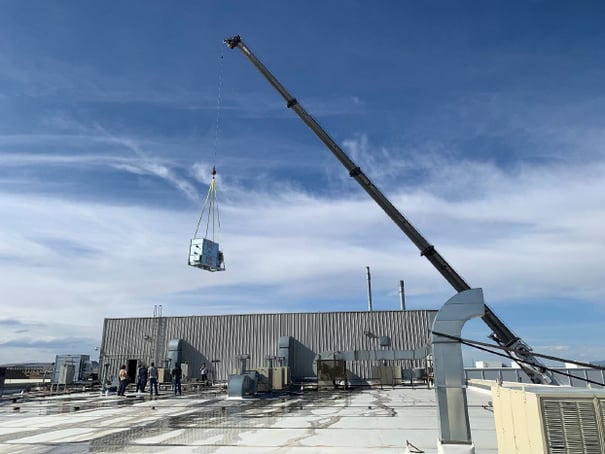 A new unit lowered into position
DRB Electric, a family-owned company in Albuquerque getting power to the units.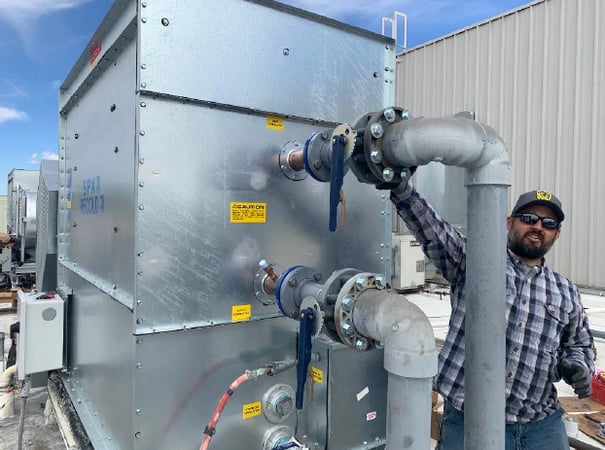 Yearout hooking up the plumping