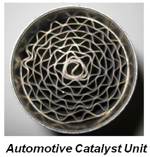 Wall Colmonoy is pleased to announce its turnkey solution to Roller Coating and Screen Printing. From paste selection to equipment to expert technical support, Wall Colmonoy offers a complete turnkey solution.
Wall Colmonoy's R&D Department works directly with customers to develop the right customized paste, a blend of Nicrobraz® brazing filler metal powders mixed with a S' Binder™ gel binder, for specific applications.
Along with the customized paste, Wall Colmonoy provides the Roller Coating or Screen Printing equipment and on-site technical support to perfect customers' application.

"Roller Coating and Screen Printing have seen significant growth because the increased precision requires less paste and greater efficiency in mass production in comparison to the other methods. This saves time and money. It is quickly becoming a replacement for foil," says Lydia Lee, Director of Brazing Engineering Center.
Roller Coating is an automated, cost-effective process best used for large tolerance non-flat surfaces and hard-to-control joint gaps. With minimum labor needed, parts go through the roller coating machine at the adjusted speed. Primary applications for Roller Coating are Catalytic converters and fin & tube exhaust gas recirculation (EGR) coolers and heat exchangers.
Like Roller Coating, Screen Printing processes are an alternative method to improve productivity and minimize material waste. Wall Colmonoy's Nicrobraz Pastes can be applied to various surfaces using the Screen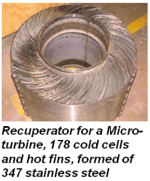 Printing application process. Screen Printing is a technique that applies a well-defined pattern of paste applied through a precisely designed mesh. Screen Printing has become a popular process because of excellent repeatability, good metering capability, ease of automation, no special operator skills, and high throughputs.
In the Power Generation industry, applications for screen printing can include heat exchangers such as the micro-turbine recuperator pictured here.
Wall Colmonoy continues to be on the forefront of brazing technology by developing new nickel-based Nicrobraz® Brazing Filler Metals and pastes to meet the challenges of components requiring enhanced strength and corrosion resistance.
Nicrobraz® 30 (AWS BNi-5), Nicrobraz® 31 (AWS BNi-14), Nicrobraz® LM (AWS BNi-2), and Nicrobraz® LC (AWS BNi-1a) are the industry's standard in joining heat exchanger assemblies meeting AWS, AMS and G.E. specifications.
Visit our Roller Coating page to learn more...