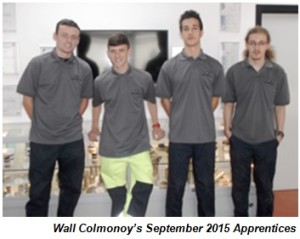 Wall Colmonoy Limited has launched a Bespoke Apprenticeship Programme in order to meet the future needs of the business, develop its next generation of engineers and continue with its long-term commitments to support the local community.
Wall Colmonoy Limited partnered with three local Colleges, Coleg Sîr Gar, Neath College and Gower College, to identify suitable candidates for their new Bespoke Apprenticeship Programme that started in early September 2015. Over the next four years, Wall Colmonoy will recruit four apprentices per year.
Whilst Wall Colmonoy Limited have recruited apprentices for many years, it was determined that a more specific learning and development programme was required to meet the unique needs of the business and to ensure the development of specialist skills and technical knowledge needed for its growth.
In partnership with Industry Wales and the Colleges, the Apprenticeship Programme has been developed based upon the principles of "the traditional 4 year apprenticeship" combining work-based training with College based Assessments. This provides the apprentices with the opportunity to develop the right balance of classroom and on-the job skills and experiences needed to succeed in the workplace.
This bespoke Apprenticeship Programme was designed to introduce the apprentices to the processes and techniques used within the three key Business Units – Alloy Products, Precision Components and Aerobraze.

Apprenticeship Programme Manager, Keith Birmingham explains, "Wall Colmonoy's Apprenticeship Scheme is an excellent foundation of engineering excellence. All apprentices have a unique opportunity to work with and learn from experienced engineers. This ensures that key skills are passed on to the younger generation and thus, retaining these key-skills in the local area."
The four chosen apprentices receive tailor made hands-on experience within a structured programme coupled with robust support, mentoring and training. The feedback from the Apprentices and the Mentors was extremely positive.
Steph Curtis, Managing Director, shared his personal experiences of being an apprentice and his career progression and development. "I was very encouraged by the sound logic each of the lads conveyed for wanting to pursue an apprenticeship, clear signs of maturity and personal direction."
Steph encouraged the apprentices to continue with their positive approach towards the Programme: stating that success was essentially down having the right attitude, skills, drive and ambition. Steph emphasized, "Wall Colmonoy is very focused on its long term future and profitable growth, and our commitment to creating a Wall Colmonoy Apprenticeship Scheme is essential part of our strategy to meet those objectives. This is an exciting time for the business, and it is a pleasure to see the quality of youngsters that we have attracted to Wall Colmonoy."
An Open Day held in January 2016 invited students and tutors from the three Colleges to attend presentations about the programme and tour the Pontardawe Plant. The second three-month rotation took place in January 2016.