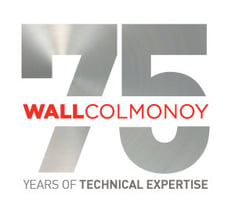 Wall Colmonoy is pleased to announce its 75th Anniversary of business.
Albert F. Wall founded the materials engineering company in 1938 in Detroit, Michigan. Mr. Wall's entrepreneurial spirit and innovative vision is at the core of what shapes the continued success of Wall Colmonoy.
Today, Wall Colmonoy is a global organization with offices and manufacturing facilities located in the US, UK and France with close to 400 employees.
Wall Colmonoy continues to advance technologies and innovations while maintaining the same integrity and values they have stood for 75 years. Developing new products and technologies in partnership with customers, universities, and local government is the driving force for innovation. The company's engineering expertise extends throughout aerospace, defense, automotive, oil & gas, glass, energy, food, marine, rubber and plastic industries.
Without loyal customers and a committed workforce, success and growth could not be achieved.
Wall Colmonoy's mission has always been and will continue to be – a leader in providing customers the technical expertise, partnership, quality, value and innovation to help them achieve their desired performance – to operate more efficiently and effectively. Customers rely on Wall Colmonoy to provide trusted advice and expert recommendations from the early stages of concept to the final stage of production.
Wall Colmonoy is unique in this industry in that it is owned and operated by the same family for 75 years. The fourth generation of family members have joined in senior roles to carry forth the heritage of a World-Class Company. This family continuation demonstrates the company's consistency, commitment and stability.
To commemorate this important milestone, Wall Colmonoy has created a 75th Anniversary logo. Additional plans to commemorate the milestone include an updated Wall Colmonoy Story and dedicated WCC World Newsletter.