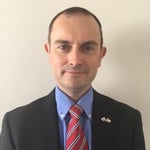 Wall Colmonoy announces the appointment of Ian Williams as Finance Director for its European Headquarters.
Ian joined Wall Colmonoy in October 2014 bringing with him 15 years' experience in financial control and operational change management.
Ian began his career with international accountancy firm PwC, and after qualifying as a Chartered Accountant Ian gained experience in financial services in the City of London before returning home to Wales to consolidate his skills as a Financial Controller in the SME sector.
He gained further experience in the private sector businesses, engaging in property development, engineering, manufacturing and fast moving consumer goods.
Ian states "I am delighted to have been given the opportunity to lead the financial management at
Wall Colmonoy Limited. It is an exciting time to be with this long established company. I look forward to further developing the company's strength and building a platform for profitable growth by establishing world class practices."
Ian graduated from Cardiff University with a 1st class BSc in Mathematics.