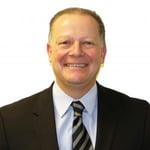 Ed Mohrbach joined Wall Colmonoy in January 2017 bringing with him extensive experience in the industrial segment with leadership roles in Sales & Marketing and General Management.
In the last 13 years, Ed was President of the PCS Company, a manufacturer and distributor of products within the Plastics Industry. During his leadership tenure at PCS, they doubled the size of the business through increased sales coverage, product line expansion and increased manufacturing capacity. Ed looks to leverage and apply this knowledge to Wall Colmonoy.
At Wall Colmonoy, Ed will work closely with management of all domestic divisions - Alloy Products, Aerobraze and Franklin Bronze Precision Components, LLC, to drive profitable sales growth through the ongoing development and refinement of their respective business strategies and tactical programs.
Ed states, "I am thrilled and honoured to join the Wall Colmonoy team at an exciting time in the company's growth. We have many business development growth opportunities globally and I look forward towards driving the embracement and successful execution with all of our employees."
Ed has a bachelor's degree in Mining Engineering from Pennsylvania State University and an MBA in Finance from the University of Pittsburgh. Ed also has received Lean Six Sigma Green Belt Certification from Oakland University.