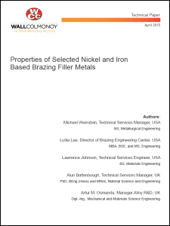 Wall Colmonoy presents the technical paper "Properties of Selected Nickel and Iron Based Brazing Filler Metals" written by our Leading Brazing Engineers. It was presented at the 2015 International Brazing and Soldering Conference.
The paper:
Examines the brazeability and braze joint properties of several nickel- and iron-based filler metals.
Assesses the wetting properties, gap filling ability, lap shear strength, and corrosion resistance.
Compares two iron-based filler metals to commonly available nickel-based filler metals.