What is Roller Coating?
An automated, cost-effective process of coating a surface with a brazing paste using a roller. Best used for large tolerance non-flat surfaces and hard to control joint gaps ex. Cat Cons, Fin & Tube EGR Coolers, Fin & Plate EGRs.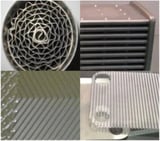 Our R&D Department works directly with customers to develop the right customized paste – a blend of Nicrobraz® brazing filler metal powder mixed with a proprietary binder – for their specific application. Make brazing work smarter for you.

Visit our Roller Coating webpage for more and see our video below on Roller Coating Nicrobraz® 152 RCS on a Heat Exchanger