Pontardawe, Wales, UK - On 3rd May 2012, Wall Colmonoy's new 23,500ft2 state-of-the-art machine shop was officially opened by Wales' First Minister, Rt. Hon. Carwyn Jones M.P, following a grant from the Welsh Government.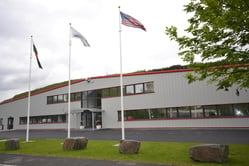 Wall Colmonoy is a world leader in the manufacturing of Colmonoy®, Wallex® surfacing and Nicrobraz® brazing alloys, cast products, and engineered components.
Driven by the rising demand for its products and services, the investment will add capacity, advanced processes and equipment while achieving "Lean Manufacturing" initiatives – increasing the quality, speed and efficiency of production. The investment will both safeguard existing and create new jobs.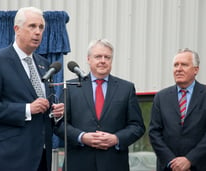 Bill Clark, Wall Colmonoy's Chairman & CEO accompanied the First Minister who unveiled a plaque to commemorate the event. He said, "The decision to expand here in Pontardawe is a great boost for manufacturing in Wales." Local M.P. Peter Hain and AM Bethan Jenkins were also present at the launch.
This expansion continues the 200-year metallurgical history at Pontardawe Alloy Site, Swansea Valley, where Wall Colmonoy is located.