Surfacing Powders and Wire for the Protection and Renovation
of Critical Industrial Components

Wall Colmonoy's range of Colmonoy® and Wallex™ surfacing powder and wire alloys dedicated to Laser cladding are used for the protection and renovation of critical industrial components. Applications include continuous cast rolls in the Steel Industry; drill stabilizers, drill strings, drill bits in the Oil & Gas Industry; boiler tubes and panels in the Waste to Energy Industry; and turbine blades and repair for the Aerospace Industry; moulds and plungers for Glass Container Industry.
"Laser additive processes are steadily growing in popularity. With improvements in Laser optics and readily available fiber technology, coupled with multi-axis automation, Laser cladding can be accomplished with more precision and control than ever before.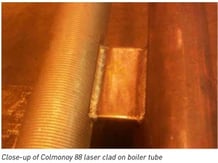 Powders for Laser processes must have careful control over particle size distribution and composition.
The power level of the Laser and the powder feed rate must balance with the welding speed to produce optimum clad overlays. Wall Colmonoy Corporation has been working closely with Optomec in Albuquerque, New Mexico on materials for their LENS® 3D Printing and cladding technology", says Michael Weinstein, Technical Services Manager, USA.
Laser cladding offers an extremely precise method of applying a clad overlay with the lowest possible dilution of any conventional welding process. This means high first pass hardnesses are possible. Sound welds with virtually zero porosity can be made with precision control that minimizes the amount of finishing required.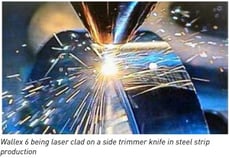 "Laser Cladding has become a cost effective process delivering high precision with minimal distortion and dilution, which is suitable for both worn and new components that require surface protection.
Wall Colmonoy is able to offer technical expertise to determine the right product for the right application for our customers," says Alun Battenbough, Technical Manager, UK.
For more information on Wall Colmonoy's range of Laser Cladding alloys, request a Technical Data Sheet.