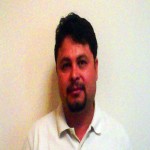 Carlos Marin has joined Wall Colmonoy Corporation as Process Engineer for the Alloy Products Group in Los Lunas, New Mexico. He will be reporting to Burr Pennock, Plant Manager.
Carlos will be responsible to perform evaluations & analysis of process related issues, determine & implement corrective actions, assist production with ongoing daily support, and also develop & implement continuous improvement processes.
Carlos has a Master's of Science in Engineering Degree from the University of Texas and a Bachelor of Science Degree in Industrial & Chemical Engineering from Instituto Technologico de Chihuahua. Carlos is also a certified Six Sigma Black Belt.
Carlos and his wife Rhonda have two children, Faviola and Luis. Carlos is a devoted family man that spends the majority of the time off traveling to visit his extended family in Chihuahua, Mexico. Carlos enjoys fishing, bowling, camping, horse-back riding and watching his son play football.
Please welcome Carlos to the team!
Carlos may be reached at (505) 866-0101 or cmarin@wallcolmonoy.com