Aerobraze UK is featured in December 2015 Issue of AeroNews, the newsletter of the Aerospace Wales Forum.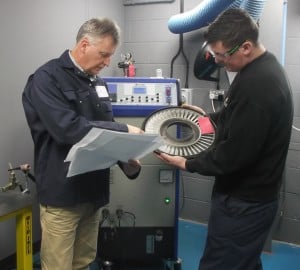 Aerobraze, a specialised business unit of Wall Colmonoy Limited, located in Pontardawe, Swansea, South Wales provides Rolls-Royce with welding and brazing solutions for their civil, military and marine gas turbines. Materials such as supernickel alloys, single-crystal and other alloy systems are used in Rolls-Royce engine components such as the Trent, Spey, Tyne, Adour, EJ200 and WR21.
Aerobraze is an aviation standard repair facility providing OEMs with new weld repair solutions for high added value parts. MRO services include fusion welding, vacuum brazing and vacuum furnace heat-treatments all approved to Rolls-Royce and Nadcap standards. Aerobraze Welding Engineers use the latest GTCAW (gas tungsten constricted arc welding) technology specially developed for use on crack sensitive supernickel alloys.
For more information, contact:
Keith Birmingham: KeithBirmingham@wallcolmonoy.co.uk or +44 (0) 1792 860641