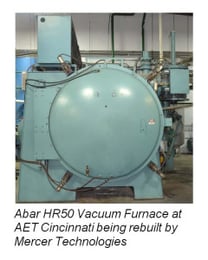 Aerobraze Engineered Technologies, a division of Wall Colmonoy, selected Mercer Technologies, Inc. to rebuild an Abar HR50 and a VFS HL7272 Vacuum Furnace for the Cincinnati, Ohio facility. Mercer Technologies will improve the overall performance and efficiency of the furnaces by rebuilding them in accordance with Aerobraze's Nadcap quality standards.
With the refurbishment of the Abar HR50 and VFS HL7272, Aerobraze Cincinnati will increase its overall capacity by 40%. The furnaces will support components that measure up to 54" w x 42" h x 72" d, complimenting Aerobraze's total offerings. A state-of-the-art digital system will provide real-time furnace control and electronic transmission of certifications to customers. A new cooling system will reduce cool down cycles and improve throughput.
"We are pleased to have Mercer Technologies rebuild our Abar HR50 and VFS HL7272 Vacuum Furnace at Aerobraze Cincinnati. Our goal is to facilitate continued growth and partnership with our highly valued customers by investing in technology and innovation. This increase flexibility will allow us to meet and exceed customers' expectations as we work to support their requirements in the aerospace, automotive, energy and the commercial marketplace," states Edward Ridge, Executive Vice President and Chief Operating Officer, Wall Colmonoy.
Both units have been sent to Mercer Technologies, Inc. Rebuild Center in Terre Haute, Indiana. The furnaces will undergo a complete remanufacture including a rebuild of motors and transformers; new hot zone; new pumps; and new digital control console. Vacuum pumps will be rebuilt by sister company Midwest Vacuum Pumps. Both companies are under The Mercer Group which offers one-stop shopping for your heat treat needs.
For more information on Mercer Technologies visit www.mercer-tech.com