ColWear addresses a long-standing problem in a plant that produces sinter for the steel-making process. The Steel plant has tried many alternatives, all with limited service life.
Screening is often a challenging application for material selection, due to the abrasion experienced as thousands of tiny irregular metallic particles rub against the screen.
ColWear vacuum fused wear plate was chosen over other alternatives for excellent protection against abrasion and improved quality and consistency of the screening process. The sinter screen is made from ColWear 62-1, a nickel-based matrix with tungsten carbide, and features thousands of tapered cuts to improve sieving ability and wear resistance. The holes in the screen have been cut by water jet.
Lewis Berry, Business Development Manager states, "Wall Colmonoy has a long heritage in steel and we really understand the technicalities of wear issues in this industry. This is just one of the solutions we have implemented in the sinter plant, though there are many more applications".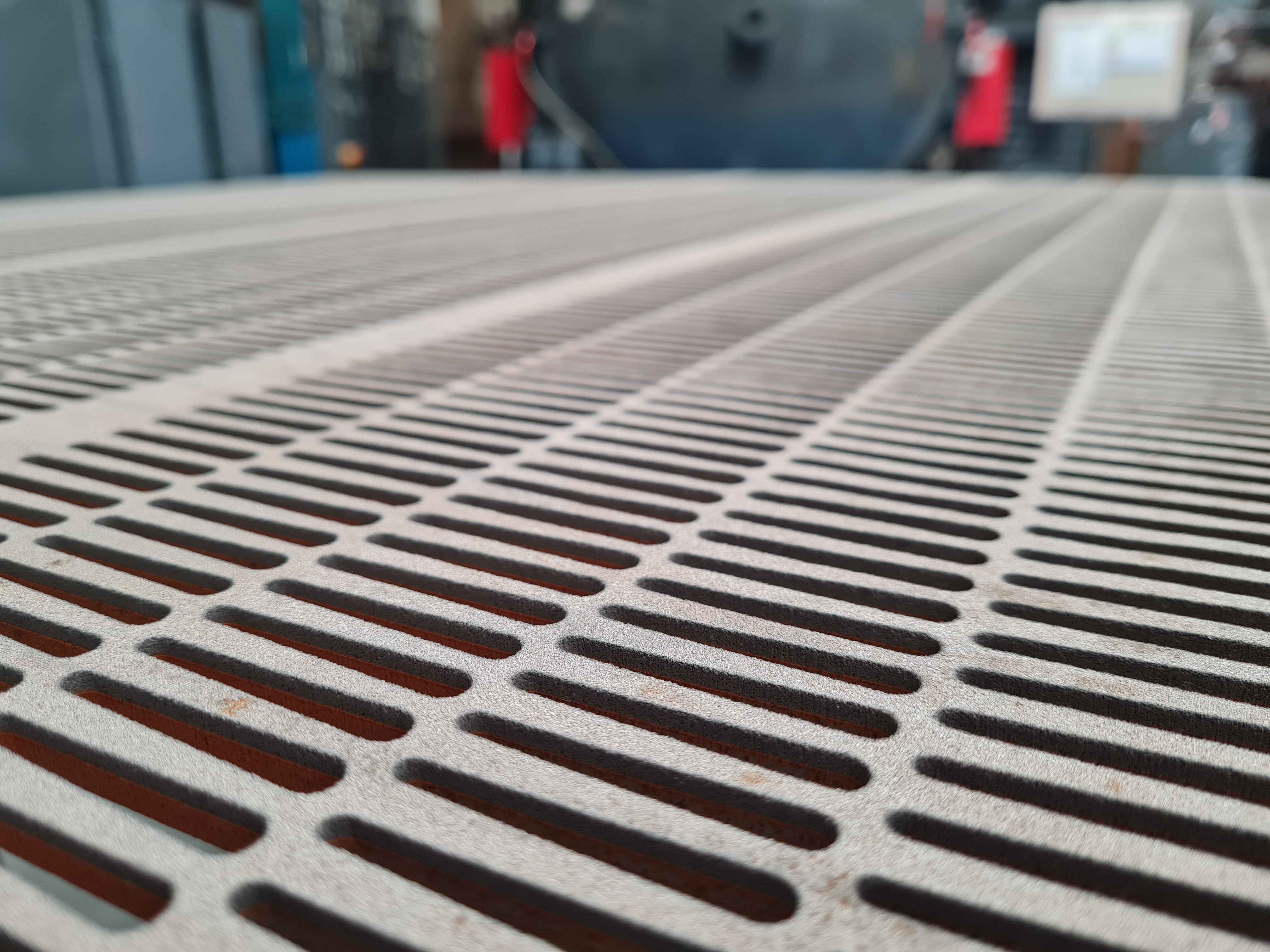 Sinter Screen that produces sinter for the steel-making process is made from ColWear 62-1 Plate
About Sinter Manufacture
In the sinter plant, raw materials are mixed, blended and then subject to high temperature across a continuously moving grate, to sinter the blend together into a continuous strand.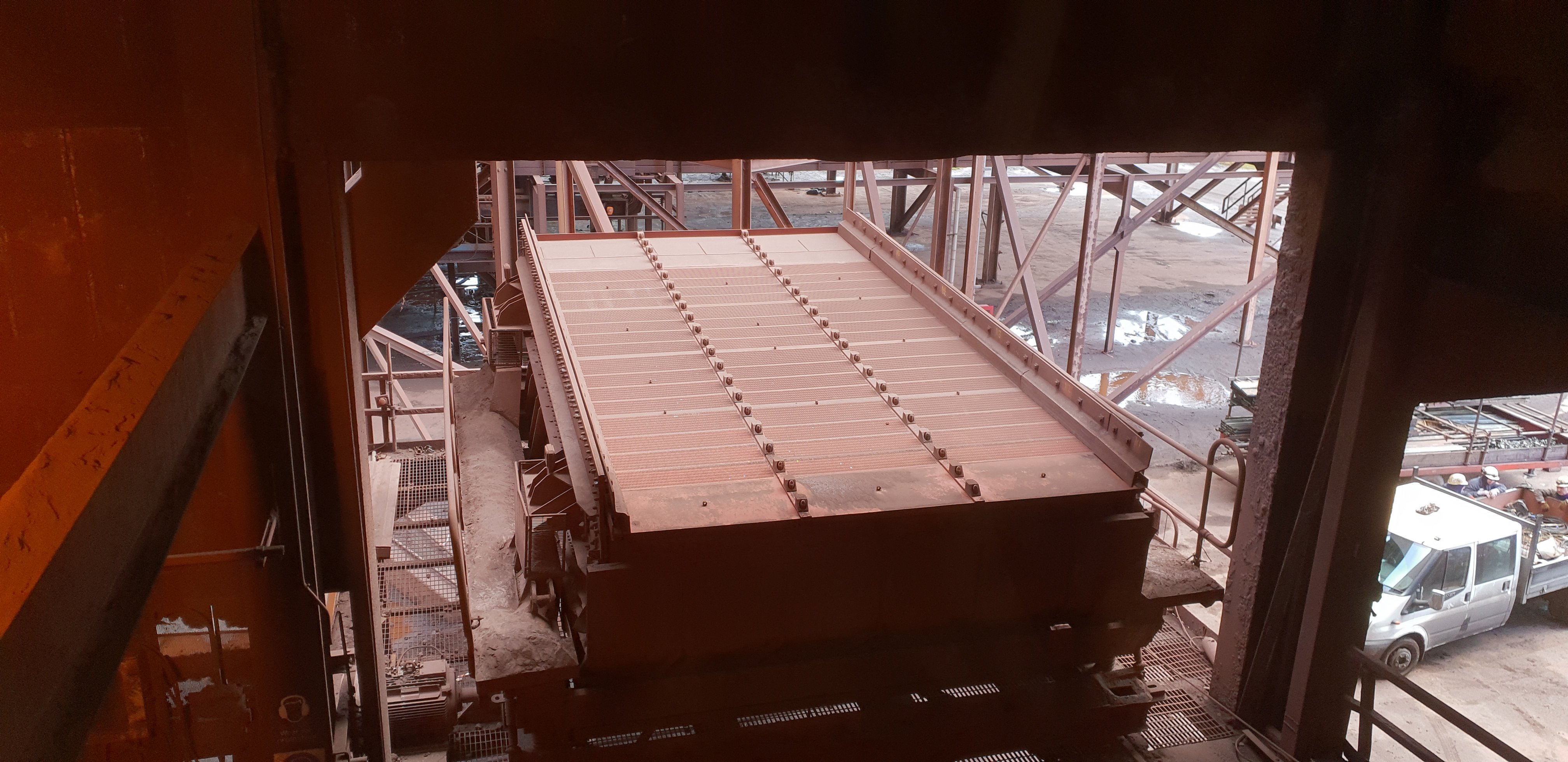 Sinter Screen shown in a Steel making plant
Sinter cakes then fall off the end of the strand and get crushed into a variety of particle sizes. Sinter then gets hot screened to take out certain size fractions and then the screened sinter is cooled and cold screened into produce or return fines that go back into the first step of the process.
Abrasion Resistance – Key Success of ColWear
One of the key factors of ColWear Plates' success is its resistance to abrasion and reason for why it was chosen for this application. ColWear Plates provide significantly improved abrasion resistance against industry alternatives.
ColWear plates will experience significantly less mass loss than alternatives, according to ASTM G-65 tests.
ColWear Plates are produced by the closely controlled process of vacuum fusing the matrix coating to the baseplate, resulting in a homogeneous coating and consistent micro structure, offering matrix hardness in the range of 55 – 64 HRC.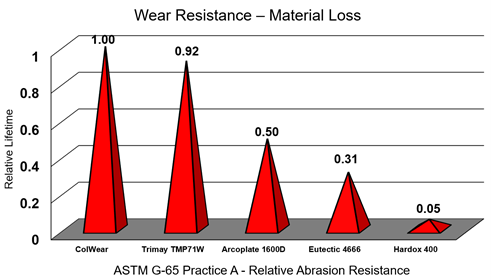 Want to know more about ColWear for Steel Applications?
Ready to talk?
CONTACT
Wall Colmonoy Limited
Alloy Industrial Estate
Pontardawe, Swansea
Wales (U.K.) SA8 4HL