In the no. 3 edition of Colmonoy® Alloy News - Colmonoy® 4 is sprayed by Spraywelder™ on plug valves and bodies for oil well drilling and cementing to give excellent service life in controlling the flow of highly abrasive drilling muds and cement slurries.
Today, in addition to Colmonoy® 4, Colmonoy® 5 and Wallex™ 50 is frequently used for this application.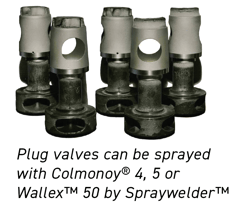 SPRAYWELD™ INCREASES SERVICE LIFE OF PLUG-TYPE LINE VALVES
Many Advantages Over Previous Arc-Welded Overlay Method
Service life of worn or damaged valve plugs and bodies is substantially increased by reclaiming with Colmonoy® 4 by Sprayweld™ at Hamer Valves, Inc., of Long Beach, California.
In this valve application, the Sprayweld™ process has many advantages over a previously used arc-welded method in that (1) warpage is not a problem - hence, the need for over-laying the plug neck packing area is eliminated, (2) rough machining before finish grinding is no longer necessary, and (3) the extra steps required for application of hard chrome plate are eliminated.
The 1-3 inch plug-type line valves being salvaged by Hamer are fabricated of AISI Cl018 bar stock, cast 304 SST and cast carbon steel (ASTM A216 Grade WCB). Reclaimed valves of this type find extensive application in oil well drilling and cementing operations, and are giving excellent service life in controlling the flow of highly abrasive drilling muds and cement slurries.
The Sprayweld™ Process
Sprayweld™ is the best process yet developed for producing an effective abrasion and corrosion resistant fusion-bonded, nonporous welded overlay. The Sprayweld™ method is especially well suited for wear-proofing parts having a basically cylindrical shape.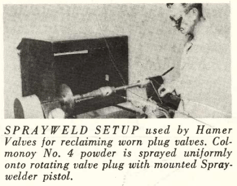 The uniformity of coating that can be achieved with the Spraywelder™ makes it economical as well as effective. The first step in reclaiming valves at the Hamer plant is the removal of the original chrome plated tapered seating surface from the valve plug. The base metal surface is then thoroughly steel grit blasted and the sprayed deposit applied.
While still rotating, the sprayed-on powder is heated with an oxyacetylene flame to a temperature of approximately 1038°C / 1900°F. This fuses the overlay resulting in a welded bond. The hard-faced plug is next ground to finish dimensions.
Previous Method
Previously, an arc welded overlay method was used. Possible warpage made necessary an arc welded overlay buildup of the plug neck packing area. This was then machined to run concentric with the plug taper. Next came rough machining and grinding, followed by chrome plating and finish grinding, to fit the seating surface of the valve body.
Colmonoy® 4 powder used has a Rockwell C hardness of 35 to 40. It provides high abrasion, corrosion and galling resistance, has a low coefficient of friction and is readily machined
Application Still Relevant Today
This application is still relevant today and included in our latest Oil & Gas brochure as a featured Valve application. Plug valves can sprayed with Colmonoy® 4, 5 or Wallex™ 50 by Spraywelder™.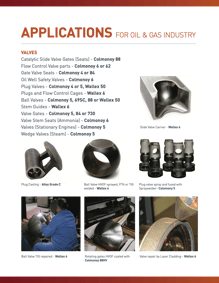 Request Materials or Technical Consultation for Oil & Gas