With CISA deeming food and agriculture a critical industry, did you know that Wall Colmonoy has a long history in both food & glass container industries?
Read about how to "get your plow shares ready for spring" and repairs on glass cast iron moulds via a low-heat welding method developed by Wall Colmonoy from our 1956 second issue of Colmonoy® Alloy News.
Agriculture Industry - Plow Share Blades
Get Your Plow Shares Ready for Spring!
In this February 1965 Issue of Colmonoy® Alloy News, Plow share blades are hardfaced with Colmonoy® Sweat-On Paste and Wallex™ alloys.
Coated shares can plow 1400-1600 acres of farmland versus 50 acres for uncoated. Apply to blades before a share even touches the field to prevent maintenance.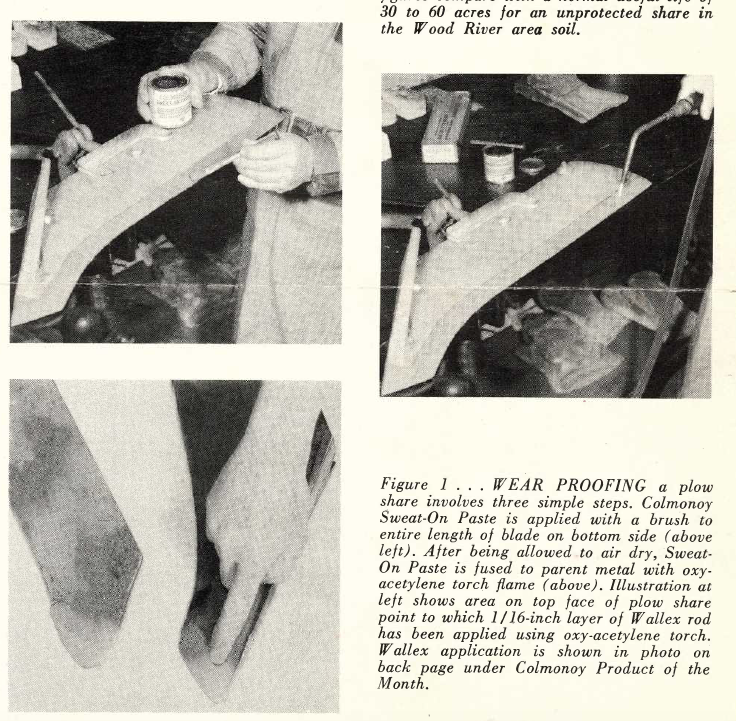 WEAR PROOFING a plow share involves three simple steps. Colmonoy® Sweat-On Paste is applied with a brush to entire length of blade on bottom side ( above left). After being allowed to air dry, Sweat-On Paste is fused to parent metal with oxyacetylene torch flame (above). Illustration at left shows area on top face of plow share point to which 1.59mm (1/16 in.) layer of Wallex™ rod has been applied using oxy-acetylene torch.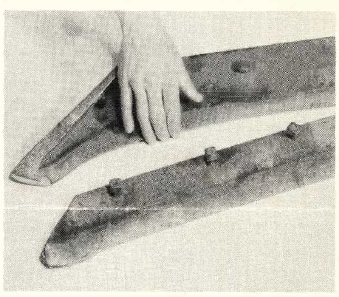 MOLDBOARD bottom blades protected with Wall Colmonoy hard-facing alloys. Upper share has plowed in excess of 1400 acres at Wood River, Nebraska; edge is still sharp and in. good enough condition for plowing an additional estimated 1000 acres. Lower blade was hard-faced when new has plowed more than 1600 acres-is still in excellent condition. These useful life figures compare with a normal useful life of 30 to 60 acres for an unprotected share in the Wood River area soil.
Wallex™ is chosen to protect the top face of the plow share:
Cost savings
Offers excellent abrasion and impact resistance
Has extreme low coefficient of friction which sharply reduces wear and enables the share to easily pass through the soil
Wallex™ extends useful life of earth moving and rough material handling equipment as well as gages, grinders, rigs, conveyor parts and pump impellers.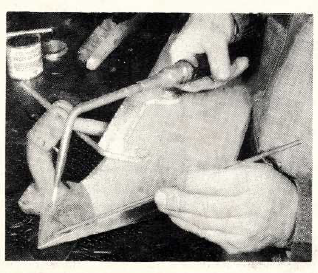 Wallex™ being applied to top / ace of plow share as part of abrasion resistance protection. This low cost iron-base alloy is also recommended for use in wear-proofing earth-moving and rough material handling machinery and equipment.
Today, Wallex™ is now rebranded for cobalt-based alloys and has applications within Agriculture or Food Industry for Knives (Hay Chopper), Collars (Expeller), Runners (Corn Planter) and Spike Harrow Teeth.
Colmonoy® alloys within the food industry have applications for:
Banbury mixers Colmonoy® 88, 69SC
Hammers Colmonoy® 6
Blades and Sweeps (Cultivator Shovel) Colmonoy® 88
Clevis Connections Colmonoy® 6
Colter Colmonoy® 705
Cylinder Teeth Colmonoy® 6
Drill Shoes and Scraper Knives Colmonoy® 6
Hand Shovels and Hoes Colmonoy® 705
Hay Baler Parts Colmonoy® 63
Knives (Cane) Colmonoy® 6
Knives (Ensilage) Colmonoy® 705
Knives (Rod Bean) Colmonoy® 6
Lifter Plates Colmonoy® 88
Mill Hammers Colmonoy® 6
Plow Discs and Harrows Colmonoy® 705
Plow Shares (Edges), (Noses) ColTung 1, Colmonoy® 6
Potato Diggers Colmonoy® 6
Pulverizer Blades Colmonoy® 88
Root Cutters ColTung 1
Screw Conveyors Colmonoy® 705 or 750
Spring Tooth Runners Colmonoy® 6
Stump Cutters Colmonoy® 6
Sugar Beet Bucket Hooks Colmonoy® 6
Sugar Beet Diffusion Machine Shafts Colmonoy® 6
Request Materials or Technical Consultation on Wallex™
Glass Container Industry – Cast Iron Repair
Colmonoy® 20 rod repairs cast iron glass container following manufacture via a low-heat welding method developed by Wall Colmonoy®.
The 3-step method consists of grinding the area to produce a good welding surface; heating to just 93°C (200°F) and applying flux; and finally, welding with Colmonoy® No. 20 nickel-base alloy rod using a reducing oxy-acetylene torch flame.
Minimum heat used with this method keeps the mould from reaching the hardening temperature, preventing formation of hard spots adjacent to the weld. Colmonoy® 20 will not – discolor or mark the finished glass. Alloy hardness is 15 to 20 Rockwell C-can be smoothed by filing.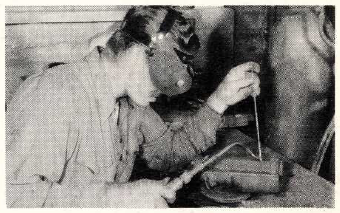 REPAIRING a cast iron glass-bottle mould by the Colmonoy® low-heat welding method using an oxy-acetylene flame and a 4.76mm (3/16 in.) diameter Colmonoy® 20 rod.
Today's method of cast iron repair is by Fuseweld™ process and alloy of choice are:
Colmonoy® 323
Colmonoy® 21
Colmonoy® 24
Colmonoy® 23A
Colmonoy® 225
Colmonoy® 226
Read more on Glass Container Industry