Wall Colmonoy's Alloy Products U.S. division is honored to receive Cataler Corporation's Best Quality Award for zero defects in 2021 for its Nicrobraz® 30 nickel-brazing powder.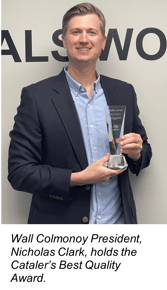 Shinwa Corporation, Wall Colmonoy's long-time Japanese partner, accepted the award on behalf of the company.
"I would like to take this opportunity to thank Wall Colmonoy's entire management and production/quality control teams for the extraordinary efforts made to maintain production and quality under extremely challenging circumstances. Shinwa is very fortunate and proud to be a Wall Colmonoy partner," exclaims Yoshiro Takitani, Senior Managing Executive Officer of Shinwa Corporation.
"Achieving zero defects and receiving this award from a world-class customer is an excellent achievement. We are proud of maintaining exacting quality standards amidst the challenging COVID-19 operating environment," states Nicholas Clark, President of Wall Colmonoy.
Cataler, a subsidiary of Toyota Motor Company and headquartered in Japan, manufactures engine catalysts for automobiles, motorcycles, and other internal combustion engine applications. The catalysts purify exhaust gas for internal combustion engines, improving their environmental impact by reducing emissions. Nicrobraz® 30 joins the metal honeycomb that is assembled inside the catalysts.

Engine catalysts are found in scooters, automobiles, power tools, and more. Nicrobraz® 30 is used to join the interior metal assembly of the catalysts.
Nicrobraz® 30 is ideal for joining components used in many high-temperature and high-stress applications, like catalytic converters. Nicrobraz® 30 has good flowability, low diffusion, and low erosion characteristics. Nicrobraz® brazing products are used in a variety of industries meeting AWS, AMS, G.E., Honeywell, Pratt & Whitney, and Rolls-Royce specifications.
Download the Nicrobraz® 30 Technical Data Sheet here.
Ready to order?
Want to learn more about Nicrobraz® products and applications?