Wall Colmonoy Aerobraze is pleased to announce they will be exhibiting at MRO Americas in Atlanta, GA on April 18-20, 2023. Staff will be on-hand at booth 4417 to discuss your MRO requirements.
Aerobraze will be promoting their OEM and Aftermarket products and services for the Aerospace & Aviation Industry.
Aerobraze specializes in the manufacture and repair of aerospace components, including including heat exchangers and oil coolers for commercial and military (F-15, F-16) aircraft; Nicrocraft™ aircraft exhaust systems for general aviation, rotorcraft, and piston engines; turbine engine components (vanes, nozzles, blades, honeycomb brazing, and engine compressor diffusers) to make engines and parts last longer in service. Components are produced through the processes of vacuum brazing, heat treatment, welding, thermal spraying and machining.
Design, Engineering & Manufacture:

Turbine Nozzles

Turbine Blades

Turbine Engine Compressor Diffusers

Turbine Vane Segments

Turbine Vane Seal Tab Assembly

Aircraft Nacelle Heat Shields

Honeycomb Seals and Segments

Heat Transfer Assemblies - Manufacture and Overhaul of

Aircraft Heat Exchangers

and Oil Coolers, for Commercial and Military Aircraft

Aircraft Exhaust Systems for General Aviation and Rotorcraft

Nicrocraft™ Aircraft Exhaust Systems (Aftermarket FAA-PMA)

Reverse Engineering of Aircraft Exhausts

Reverse Engineering of Aircraft Heat Exchangers

Processes: Assembly, Machining, Welding, Brazing, Heat Treating, Coatings
Franklin Bronze Precision Components, a subsidiary of Wall Colmonoy, will be joining the exhibit to promote their investment casting capabilities.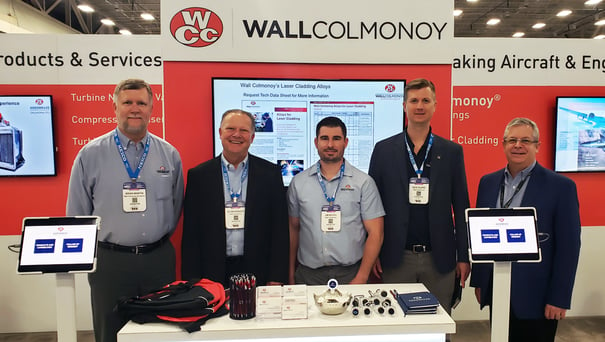 Wall Colmonoy Aerobraze Exhibit at MRO Americas 2022 in Dallas, TX.

Pictured L to R: Brian Martin, Director of Business Development – Aerobraze; Ed Mohrbach, Executive VP of Finance & Admin; Jim Nicoll, Marketing Associate; Nick Clark, President; Jeff Greer, Director of Aerobraze USA

Rolls-Royce M250 Compressor Diffusers – Fabricated Complete

Aerobraze quality standards AS9100 Rev D, ISO 9001:2015, EASA.145.6085, AWS D17.1/D17.1M:2017 (Welding), Nadcap approvals in brazing, heat treat, welding, coatings, and NDT. Aerobraze locations have FAA-Repair Station approvals and a FAA-DER & FAA-DMIR on staff.
Wall Colmonoy has a long and proud history within the aerospace industry. Through its Alloy Products division, Wall Colmonoy develops and manufactures Nicrobraz®, the leading nickel-based brazing filler metal. Nicrobraz® is used within the Aerospace industry for honeycomb and blade applications. Nicrobraz® is supplied as powder, paste, tape or foil. Colmonoy® surfacing products are used to coat metal parts to make them last longer and provided for methods of HVOF, PTA, Spray & Fuse, & Laser Cladding. All products adhere to ISO 9001 standards.
In addition to the development of Nicrobraz® brazing filler metal, Wall Colmonoy pioneered the very first heat exchanger overhaul procedure and developed high temperature furnace brazing, which is used extensively in OEM and aftermarket. Wall Colmonoy's brazing and manufacturing expertise has resulted in increased efficiencies and significant cost savings in maintaining and extending the life of aircraft and engine parts.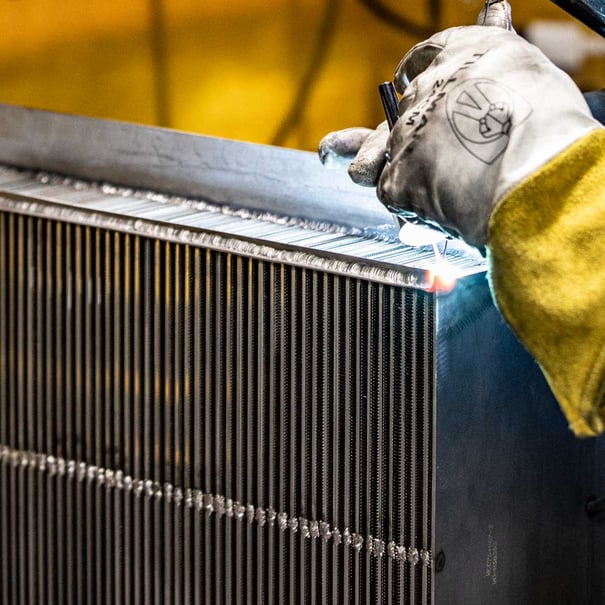 Welding a F-16 Heat Exchanger Core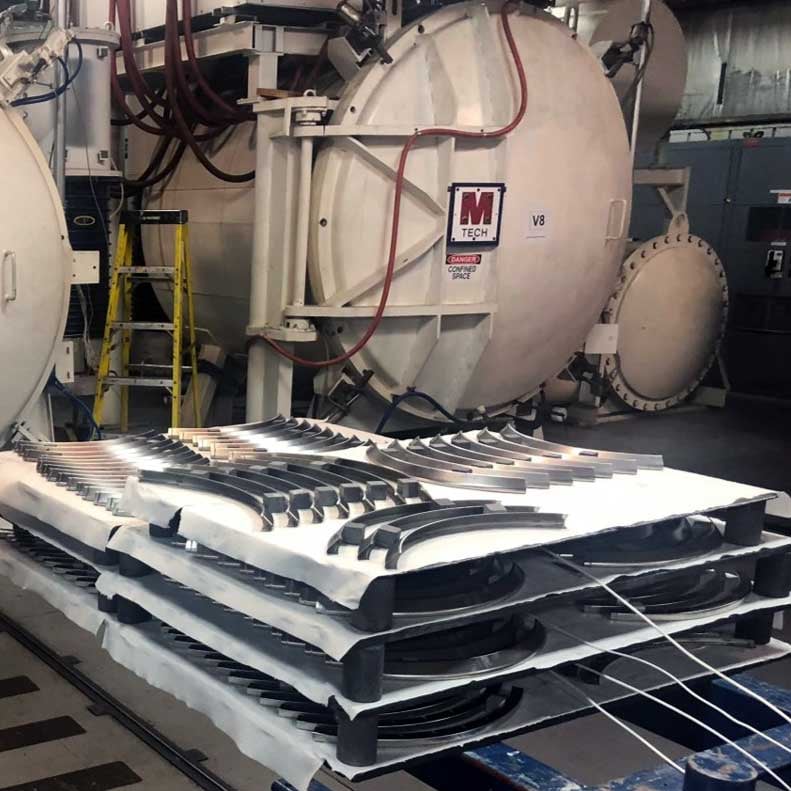 Vacuum Furnace Brazed Components
Wall Colmonoy MRO. Making your aircraft and engine parts last longer.
Register for MRO Americas 2023 here.
To make an appointment with us at MRO Americas 2023 or to discuss your MRO needs, please contact us.