The shelf life of our Nicrobraz® Brazing Pastes is a common question.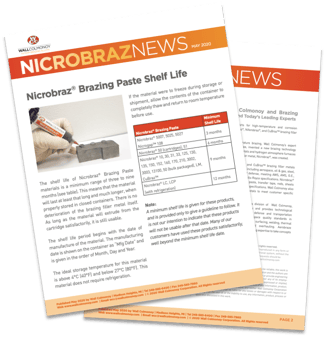 The shelf life of Nicrobraz® Brazing Paste materials is a minimum range of three to nine months (refer to Nicrobraz® News Technical Bulletin for specific product list).
This means that the material will last at least that long and much longer, when properly stored in closed containers. There is no deterioration of the brazing filler metal itself. As long as the material will extrude from the cartridge satisfactorily, it is still usable.
The shelf life period begins with the date of manufacture of the material. The manufacturing date is shown on the container as "Mfg Date" and is given in the order of Month, Day and Year.
The ideal storage temperature for this material is above 4°C (40°F) and below 27°C (80°F). This material does not require refrigeration.
If the material were to freeze during storage or shipment, allow the contents of the container to completely thaw and return to room temperature before use.
Note: A minimum shelf life is given for these products and is provided only to give a guideline to follow. It is not our intention to indicate that these products will not be usable after that date. Many of our customers have used these products satisfactorily, well beyond the minimum shelf life date.
To read this as Nicrobraz® News Bulletin: